Data, analytics and portfolio valuation services for the reverse mortgage industry
Welcome to Reverse Market Insight
The Premier Provider of Data, Analytics and Portfolio Valuation Services for the Reverse Mortgage Industry.
---
We help retail originators, wholesale lenders and HMBS issuers, servicers, and investors make more effective decisions to reach their business goals using the industry's largest database of HECM loan origination and performance information and most innovative, cloud-based tools.
How Does Reverse Market Insight Give You an Edge?
---

Trusted Expertise
The industry's top 10 lenders plus leading brokers, vendors, servicers, and investors all rely on our intelligence software and services.

Comprehensive Data
Our repository includes public and lender-submitted origination and performance data on all HECM loans, as well as a large population of proprietary products.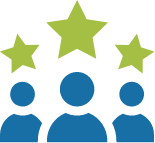 Proven Experience
Our team has a combined 40+ years of experience analyzing the reverse mortgage industry.
Our Latest Commentary on Reverse Industry Data
---
HECM endorsements dropped -15.4% to 2,667 loans in November. We haven't seen any case number issuance data since August, but it's a fair bet that recent high 10 year CMT rates have significantly affected that leading indicator and behind the endorsement volume weakness. The geographic mix was just one region away from a universal downturn:…

HECM endorsements rose 2% to 2,667 loans in October, as the industry continues to feel the impact of several months of low case number issuance. We don't yet have September figures for case numbers issued, so the most telling indicator of future volume will have to wait for now. The geographic mix was even more…

HECM endorsements fell -12.3% to 2,614 loans in September, a result that was obviously coming based on recent case number issuance weakness. The good news is that case number issuance jumped 18.5% in August, so there is reason for optimism looking forward. The geographic mix looked particularly poor, as the top 7 regions all […]
Stay Informed for Free
---
You can have our newletter delivered directly to your inbox three times a month. You'll gain insights into the high-level trends in the reverse mortgage industry and be better able to anticipate emerging opportunities.
Fresh Insights 2-3 Times Each Month