HECM endorsements continued their slow trickle downward, losing -4.7% in November to end the month with 3,561 loans.
Four of the ten regions grew, but they tended to be the smaller volume areas.
Great Plains is the smallest region by volume but showed the biggest increase, rising 26.2% to 53 loans
Midwest gained 8.8% to finish at 223 loans
Mid-Atlantic rose 7.3% to 206 loans
Lenders saw a more mixed picture:
HighTech Lending is #10 but should rise to #9 next month as ORM falls out, with a 91.1% monthly increase quickening their rise!
Mutual of Omaha jumped 15.5% to 276 loans and their highest total in over a year on this report
Liberty rose 10.7% to 259 loans
Click the image below for the full report.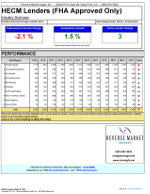 Free Webinar!
Join Reverse Market Insight's Jon McCue & Reverse Focus' Shannon Hicks for a power-packed hour of how to prepare yourself and your team to sell effectively in what is sure to be a year of remote-selling during the 2nd wave of COVID-19. Register yourself and your sales team while seats are available!
In this session we will discuss…
Remote sales technology tools
The equipment you'll need
Power-tips for being 'on stage'
How to overcome reluctance with 'SOCIAL PROOF' of the number of active reverse mortgages in your city
The one question to ask in EVERY meeting
Tips for effective post-presentation follow-up to increase sales conversions