We already know HECM endorsements dropped in February, but now we know that both business channels showed similar trends on the month.
We can also now say that refis continued at a high level at just over 50% of all endorsements in February – consistent with the past 9 months starting last June in a tight range between 48.6-51.4%.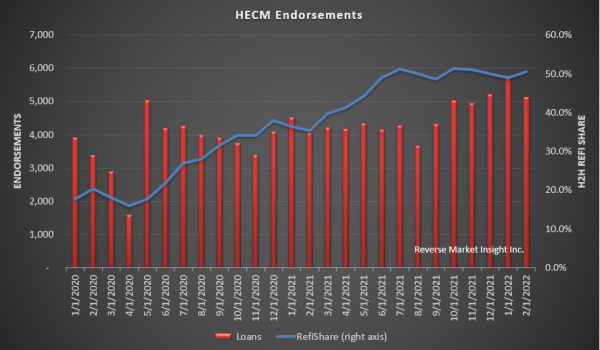 Just one top 10 lender bucked the decline:
Hightech extended its gains from January, adding 20% to finish with 114 loans
A few originators are up strongly YTD already:
Goodlife was up 300% on the month and 104.6% YTD, but while Feb was >70% refi for them it was down from >90% in Jan
Crosscountry doubled in Feb and is up 80% YTD – with just 16.7% refis in Feb!
Check out the full rankings on pages 3 and 4 of the full report below by clicking on the image.