Most people start the new year with a kiss and party noisemakers (even if just on TV), but since we only think about reverse mortgage stats it just means we have all new growth numbers to share with you in this month's HECM Trends report!
On a pure volume basis HECM endorsements grew 19.7% in January but were down -2.5% from last year. That's both good and bad, but what's changed even more significantly is how that volume is split amongst states across the country.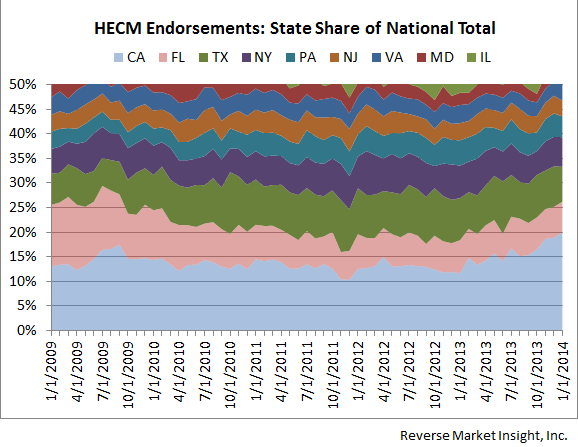 5 years ago, 13% of HECM volume nationally was in California – a figure that has since risen to 20%
Florida has literally been cut in half over the same time period, down from 12.5% to 6.25%
Perhaps more astonishing, California was just 11.7% one year ago!
Nevada had an even higher share growth, from 0.44% to 0.85%, although even that was behind Maine, South Dakota and Hawaii (all starting from smaller numbers)
Check out your state/county/city/zip in the full report below (click on the image) or feel free to give us a shout if you'd like a personal deep dive to see how this information can focus your opportunities.