Refinances have been a hot topic in the reverse world lately, with NRMLA issuing updated guidelines and HMBS investors asking more questions about the higher prepays than they might have expected when paying significant premiums for new pools. In November, 11% of all HECM endorsements were refinances – a figure which has changed significantly over time as you can see in the graph below.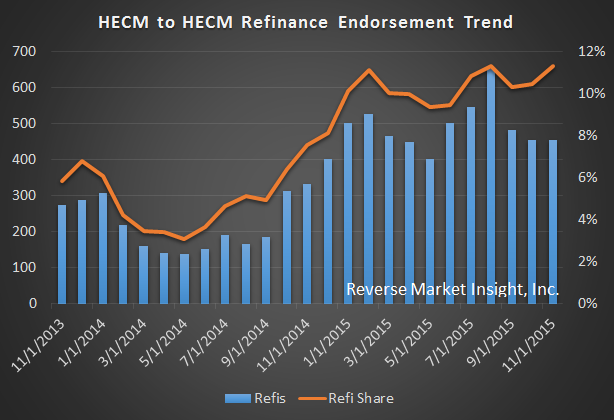 Rather than focusing on the geographic elements of this report, we'd just like to point out that HECM Trends offers a monthly glimpse into how many HECM endorsements come from refinance transactions (one HECM replacing a prior HECM). There are more than five years of archives of this report available on our site, so check it out and if you want to dig into further detail don't hesitate to contact us.
You can find the monthly refinance stats towards the top left of page 2 in each report.
Be sure to check out the full report by clicking the image below.